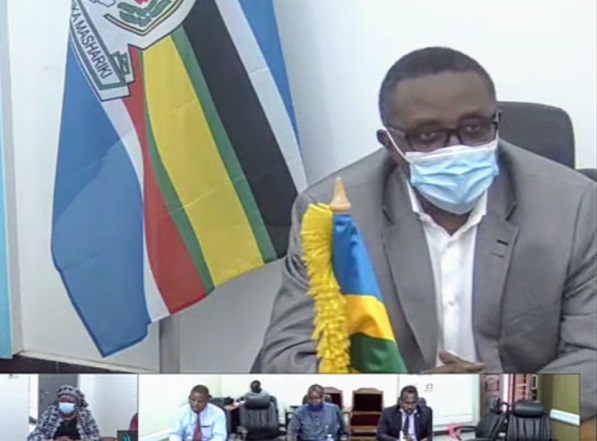 Kigali: The Rwanda's Foreign Minister Vincent Biruta, virtually, took Oath of Allegiance as an Ex-Officio Member of the East African Legislative Assembly(EALA).
Biruta was sworn in to the House virtually before the Speaker and Members of EALA in line with the Rule 5 of the Rules and Procedures of the Assembly. The Rule 5(4) of the Rules of Procedure says in part that: "No Member can sit or participate in the proceedings of the House until the Oath or Affirmation of Allegiance to the Treaty is taken".
Biruta was ushered in virtually (introduced by name) to the House by EALA Members, Dr Pierre Celestin Rwigema in accordance with Rule 9 (2) on Administration of Oath or affirmation of the Rules of Procedure for Virtual Meetings and Sittings of the House.
EALA Speaker, Ngoga Karoli Martin congratulated Biruta upon his swearing in – as he assumes his ex-officio role in the regional August House. The Speaker said Vincent Biruta, a senior member of cabinet previously served as Speaker of Rwandan Senate, had vast experience and understood the workings of Parliament. "You are most welcome to EALA, Hon Dr Biruta", Speaker said.
Last week, Rwanda's State Minister in charge of EAC Affairs within the same Ministry, Nshuti Manasseh, was also sworn in as an ex-officio Member of EALA.
Under the Treaty for the establishment of the EAC, the Assembly shall swear in the Ministers responsible for EAC Affairs from each Partner State and the Assistant Minister, Deputy Minister of Minister of State. The Assistant/Deputy Minister or State Minister shall only seat/attend the House proceedings provided the substantive Minister responsible for EAC is unable to participate.
Biruta who was appointed as Rwanda's Minister for Foreign Affairs, by President Paul Kagame in November 2019, is a seasoned politician. He previously served as the Minister of Environment of the Republic of Rwanda from August 2017 to November 2019. Prior to that, Biruta held several cabinet positions in the Government of Rwanda including the Natural Resources portfolio from 2014 to 2017, Education from 2011 to 2014, Public Works, Transport and Communication from 1999 to 2000, and the Health docket from 1997 to 1999.
Besides his cabinet appointments, he was the President of the Senate in Rwanda's bicameral Parliament from 2003 to 2011 and President of the National Transition Assembly from 2000 to 2003. Biruta is a qualified physician.
He has furthered his studies in Public Health and Nutrition at the Université Catholique de Louvain in Belgium as well as in Planning and Management of Health Services in Developing Countries at the Université Libre de Bruxelles.
In his maiden statement on the floor, Biruta reiterated his commitment to move forward the agenda of EALA as well as the interests of the East African Community. (End).
Please follow and like us: