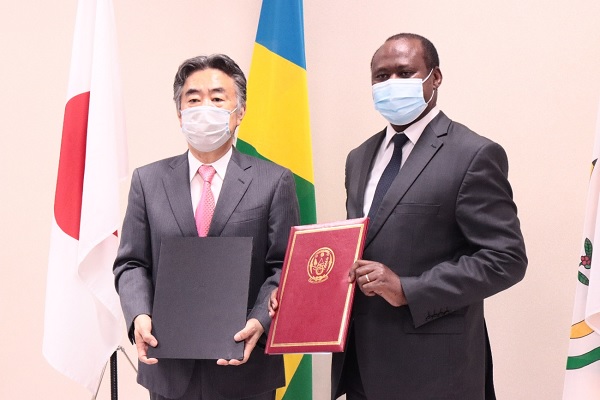 Mr. Masahiro IMAI, Ambassador of Japan to Rwanda, and Dr. Uzziel NDAGIJIMANA, Minister of Finance and Economic Planning signed the Exchange of Notes (E/N) for Japan's Grant Aid "the Economic and Social Development Programme", which amounts up to 300 million Yen (approximately 2.8 million USD).
Japan will provide medical equipment which will contribute to strengthen Rwanda's health system in the fight against COVID19. The equipment to be supplied will include central monitor, electrocardiogram, ambulance, X-ray examination car, blood gas analyser, ultra-low temperature freezer etc., they are planned to be distributed to the hospitals and laboratories in Kigali as well as 4 provinces in Rwanda.
Minister NDAGIJIMANA said, "The medical equipment will contribute to strengthen Rwanda's health and medical system in the fight against COVID-19 pandemic. They will augment government's response to the pandemic and play efficient role in saving lives".
Ambassador IMAI said, "We find ourselves in a human security crisis due to the pandemic. Our dignity, our freedom and our daily life are threatened by the contagious disease and the subsequent economic and social turmoil.
"In this regard, we appreciate Rwandan health workers' devotion as well as Rwandan government's strong ownership and vigorous measures taken to fight against COVID19, and we are ready to work hand in hand to win this struggle," Ambassador IMAI added.
Japan and Rwanda share the value of human security, and its basic notion is "not to leave vulnerable people behind". Japan has a long history of engagement in the realization of Universal Health Coverage (UHC), which refers to the condition in which all people can receive appropriate health care services at affordable cost, and given that this pandemic has affected health systems worldwide, we are convinced that their enhancement through UHC is indispensable. . (End)
Please follow and like us: