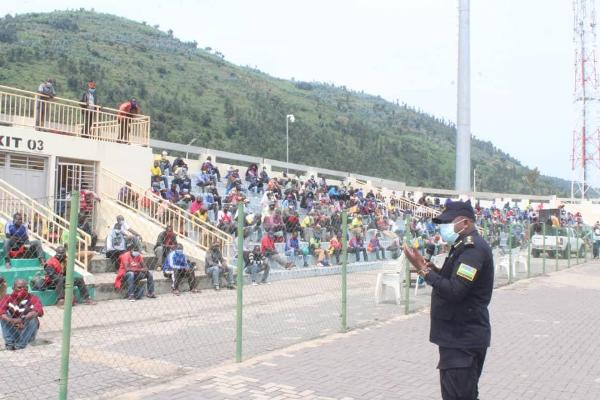 Rubavu: Commercial motorcyclists and cyclists in Rubavu District were reminded to exercise a high level of compliance to be safe from COVID-19 and protect their passengers.
The call was made the acting Regional Police Commander (RPC)-West, Chief Superintendent of Police (CSP) Edmond Kalisa, while addressing about 500 motorcyclists and cyclists at Umuganda stadium.
The meeting aimed at enlightening the transport group on safety measures as they resumed operations following the June 30, extraordinary Cabinet meeting, which lifted the travel restrictions to and from Rubavu.
Movements in and out of Rubavu district have been restricted since June 02 in bid to prevent further spread of Covid-19 in areas neighboring this district.
The meeting was also attended by the Mayor of Rubavu, Gilbert Habyarimana, and the Director-General for Gisenyi Hospital, Lt Col. William Kanyankore. It was held in consideration of the recommended safety guidelines.
CSP Kalisa urged them to follow all the directives and to ensure that their passengers follow them as well.
"You must abide by the directives including the curfew, having hand sanitizer, cleaning helmets, wearing facemask, using cashless payment systems, social distancing in your parking lots.
Also, passengers using motorcycles should respect everything required of them like compulsory wearing of facemask, cashless payment, and sanitizing their hands before boarding as well as wearing fabrics inside the helmet," CSP Kalisa told the motorcyclists and cyclists.
"There should be no space for reluctance, support the national efforts by being compliant to the safety instructions, avoid aiding criminal activities like transporting drug dealers and smugglers or their illegal goods," CSP Kalisa said.
Mayor Habyarimana warned them against practices and behaviours that might take the district back into lockdown.
Dr. Kanyankore reminded them that the hospital will conduct mass testing for COVID-19 among motorcyclists, and urged them to easy the process to prevent further spread of the virus.
He added that they will be assessed in one week to evaluate their behaviours to inform the next course of action. (End)
Please follow and like us: