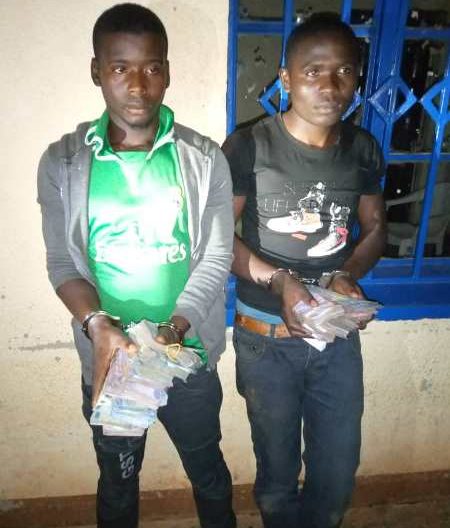 Suspects: Athanase Muhire and Nshimiyimana Niyomugabo.
Bugesera: Police in Bugesera District has recovered Rwf2,920,000, which is part of the money that was stolen from a local resident.
The money was recovered on late Friday evening from two prime suspects, few hours after the victim reported the theft at Ntarama Police station.
The arrested suspects are Athanase Muhire, a domestic worker for Alphonse Nzeyimana, the victim. Muhire's accomplice, Nshimiyimana Niyomugabo also worked in the neighbourhood as a domestic worker.
It is said that the duo stole Rwf3.5 million after breaking into Nzeyimana's bedroom, and had already spent Rwf580, 000 by the time of their arrest as they were escaping.
Chief Inspector of Police (CIP) Hamdun Twizeyimana, the Police spokesperson for the Eastern region, said that shortly after realising that the money was missing from his bedroom, the victim filed a theft case at Ntarama station.
"Nzeyimana, after realising that the money was missing from his bedroom at about 3 pm on April 3, he suspected his house-helper–Muhire–who couldn't be traced at the time," CIP Twizeyimana said.
He added: "Later that evening at about 6pm, Ntarama Police station received a call from a resident reporting two people with a lot of money, buying drinks and hiring a boat to cross them to Kamonyi District. Police officers were immediately deployed and they arrested the two suspects with Rwf2,920,000."
Theft, under article 166 of the penal code, attracts an imprisonment of between one and two years, a fine of up to Rwf2 million and a community service of six months or one of these penalties.
CIP Twizeyimana commended the resident, whose suspicions and calling the Police facilitated the recovery of the money and arrest of prime suspects.
He called upon the general public to always report anything suspicious, which helps in fighting and preventing crimes, and bringing offenders to justice. (End)
Please follow and like us: